AS-SAL-20 Mark II - Shared Apex Loop Array. Shared Apex Loop Array, 22 ft aluminium mast and wire loops
AS-SAL-20 Mark II - Shared Apex Loop Array. Shared Apex Loop Array, 22 ft aluminium mast and wire loops
Product Information
NEW!!!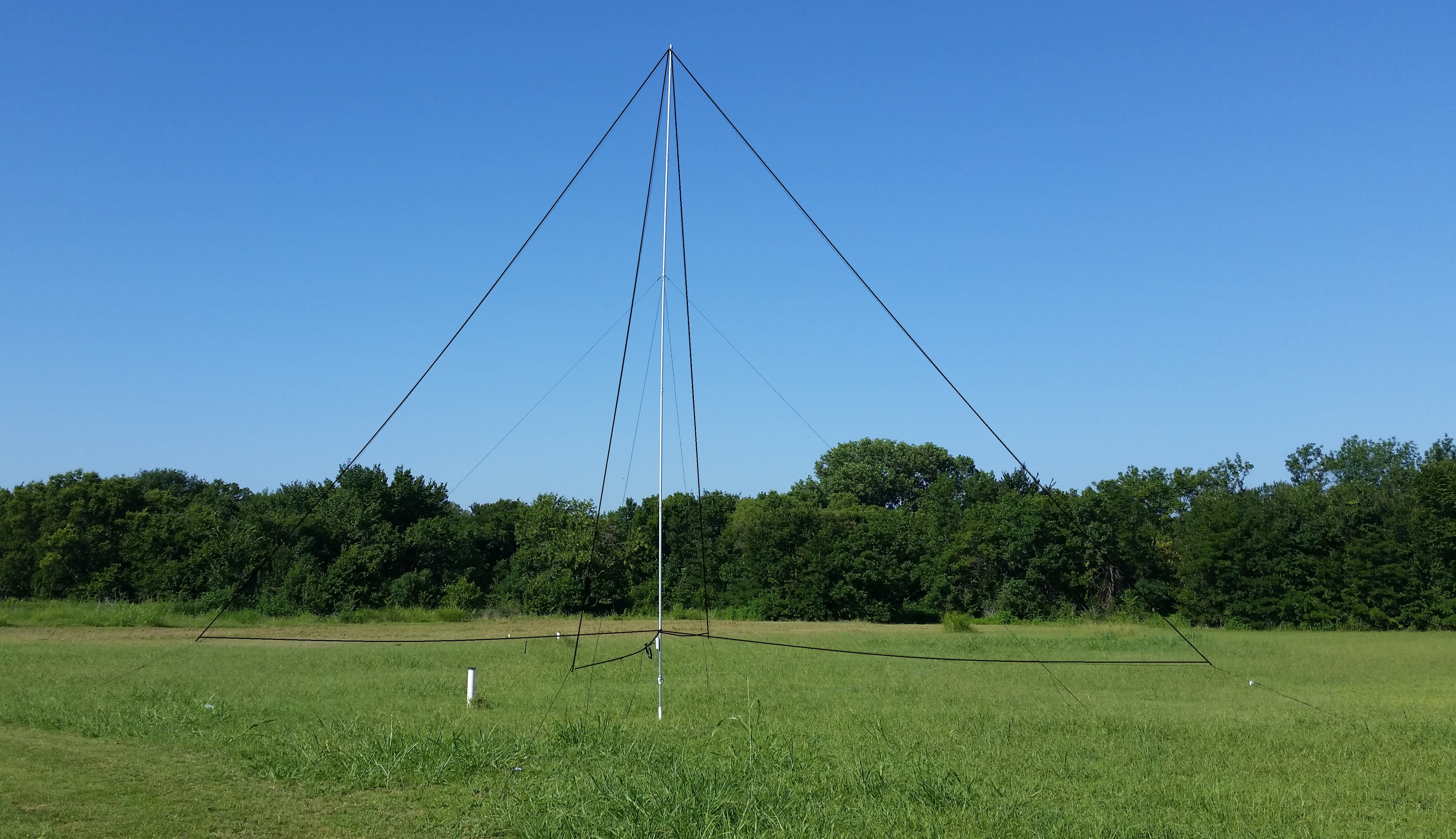 Shared Apex Loop Receive Antenna System. Eight instantaneous switching directions. Anchoring Stakes, ropes, tensioners, mast, mast base, cable loops, combiner, controller and 15 V DC power supply, 22 ft high. 26 ft radius (25 ft square if posts are used to anchor loops' outer corners). NOW VERSION 2 WITH ALUMINUM MAST.
Introducing the Shared Apex Loop Array™ - Mark II
Now, you have a new interference fighting weapon in your receiving arsenal. The Shared Apex Loop ArrayTM is a revolutionary receiving antenna that will change the way that you listen to the radio! The patented design provides performance in a size and over a range of frequencies that will please both the rag-chewer and DX'er alike.
The antenna is a true-time-delay array with four identical wire loops supported by a single non-conductive mast. Signals from each loop are transferred through a ferrite coupler to a short balanced line that connects to the switch/combiner/amp enclosure mounted at the base of the antenna. Within this enclosure, signals from each loop are routed either directly to a combiner or through a delay line and then to the combiner, where they are amplified by a dual stage balanced broadband amplifier and sent out to the feed line to the controller located in the shack. The controller connects directly to your receiver, and sends power and control signals over the feed line to the antenna.
Three models to chose from
AS-SAL-30 Mark II - optimized for VLF, BCB, 160 m / 80 m / 40 m DXing, 32 ft tall, approximately 47 ft square footprint

AS-SAL-20 Mark II - optimized for VLF, BCB, Low Band DXing, and shortwave to 15 MHz, 24 foot tall and approximately 36 ft square footprint.
AS-SAL-12 Mark II- optimized for BCB, and 3-30 MHz , 16 feet tall, and approximately 26 ft square footprint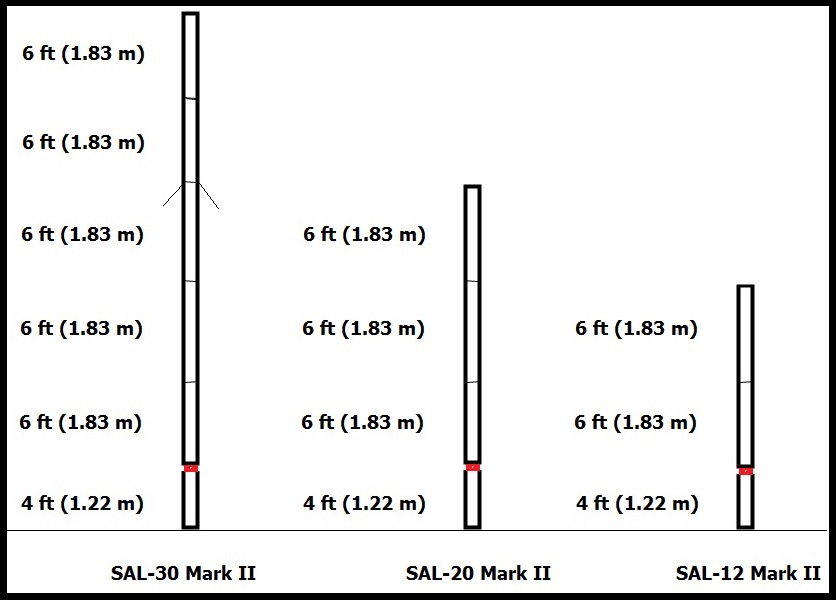 Shared Apex Loop Antenna, AS-SAL-xx Mark II, mast composition for the different models.
"Shared Apex Loop Array: A Wideband Directional Receiving Antenna for 500 kHz - 30 MHz"
Effective communication on the LW, MW, and SW bands requires more than just a careful ear. You need the right gear to navigate through the jungle of interference that can be as close as your computer, or as distant as a thunderstorm on the other side of the globe. Interference, though isn't just a challenge for DXers - it's a challenge for net operators, rag chewers and county hunters too, military operations - in other words, it is a challenge to all of us!
We have developed a new type of receiving antenna that delivers exceptional directivity in a small package and is usable over a wide range of frequencies without need for adjustment. This new antenna is called the Shared Apex Loop Array antenna and it opens the door to a new class of compact, high performance, wideband receiving antennas developed for both amateur and professional users.
The antenna operates on the true-time-delay principle rather than the more traditional phased array methods. This method of operation enables outstanding bandwidth. For example, a 22 feet tall, 18 feet radius array, like the SAL-20, can provide outstanding front-to-side and good front-to-back performance for continuous frequency coverage below 500 kHz to 16 MHz with good sensitivity above 1.8 MHz! A 10 foot tall, ten foot radius array provides continuous frequency coverage between 500 kHz to 22 MHz with good sensitivity above 5 MHz.
The patented and additional patent pending designs provides the following benefits:
Compact Size, light weight
Wideband operation without need for adjustment
Ground independent operation
Outstanding front-to-side ratio
Ease of Construction, and simple single feed line control for data and RF
Modular design
Portability for DX-peditions, quick deploy operations, field day operations, emergency operations
Easily remote controlled with the Shacklan - 4 USB interface to your PC or a Ethernet Everywhere device.
If you want to save on shipping costs and please check our AS-SAL-20 Mark II DX , the overseas version, no mast, no power supply,
click here
. There is a link on guidelines for building your own mast.
Components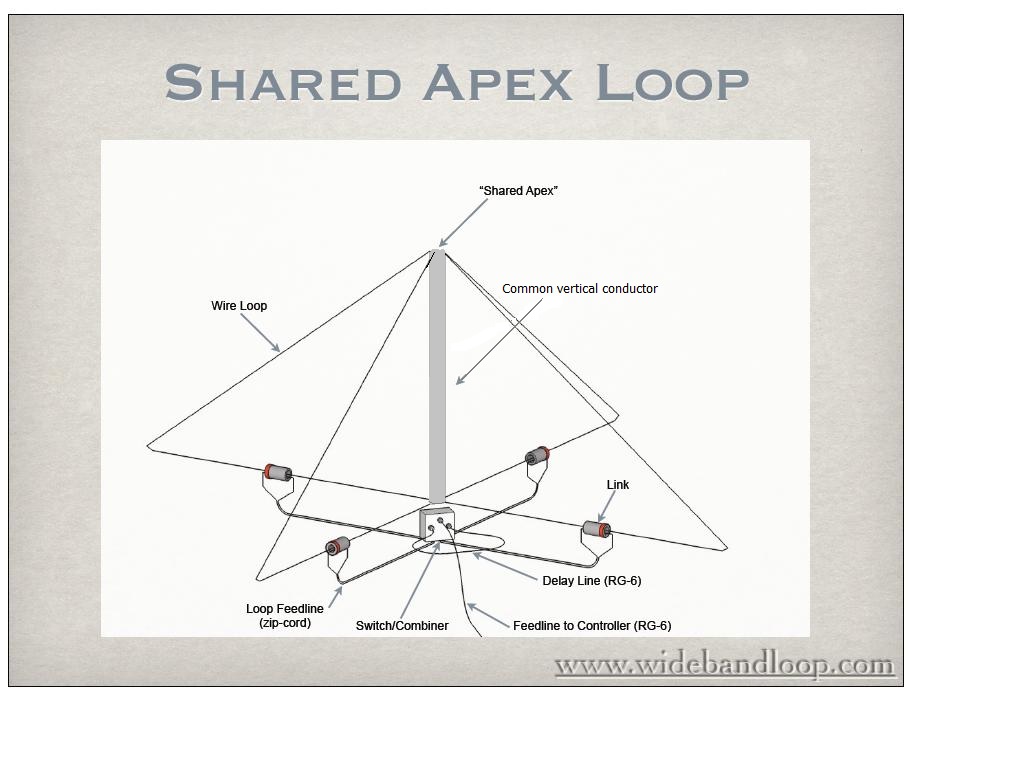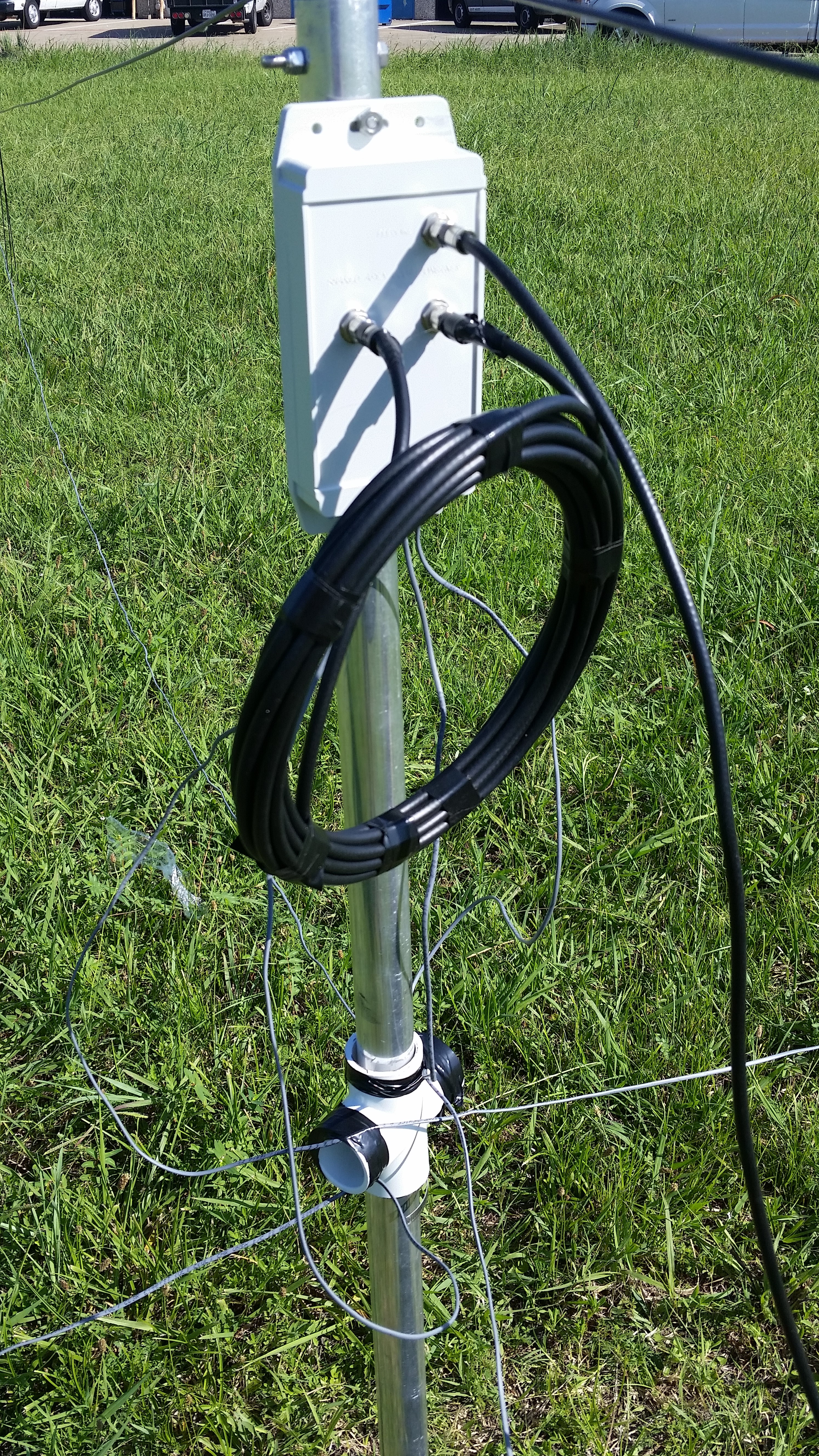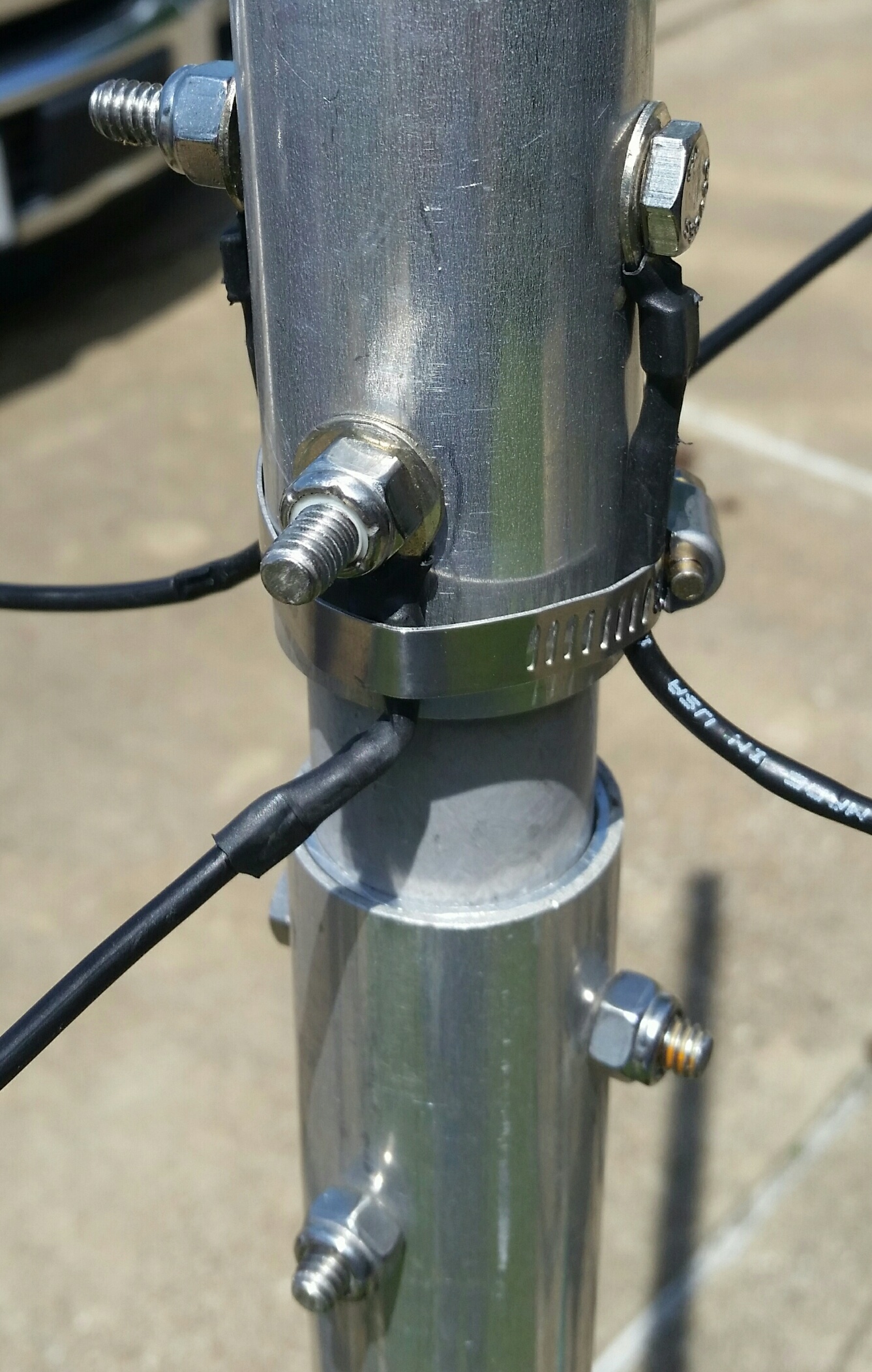 Combiner view at bottom of mast. The two lower connectors are for the delay line (provided) and the top one is for the feedline.
White cables are the twin lines coming from the couplers.
Combiner Features:
Four balanced loop inputs
Operating Range: 500 kHz - 22 MHz
Group Delay Matching (+/- 1 nsec) between ports from 0.5 - 22 MHz
Very low noise dual differential pre-amp (open socket design)
Now delivered with a High Pass AM Broadcast Band Filter, older models can be upgraded easily. and more gain too.
Delay Line Ports 75 ohm (F-type connectors)
Single Feed line to Controller F-type. Power/Data/Signal shared on single cable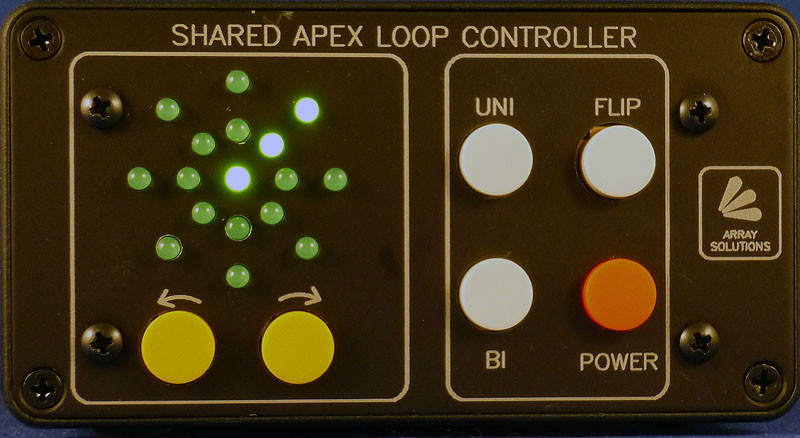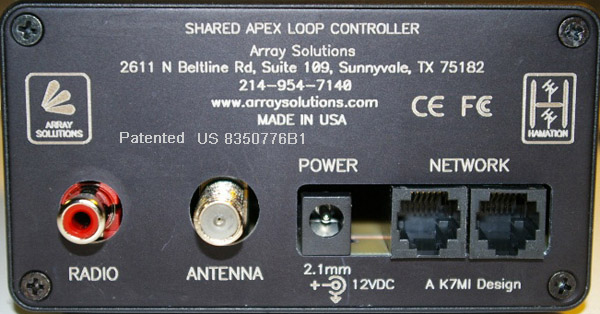 Controller frontal and rear views.
Controller Features
Eight direction rotation either direction
Flip for instantly for rotating 180 degrees and seeing the front/back ratio
Bi-directional to beam in two directions at once
Single 75 ohm feed line operation, no control cable
Controllable from the 4 wire ShackLan interface for remote operation from your PC or a USB/Ethernet direct box
Compact in size, 4" (101.6 mm) wide x 5" (127 mm) deep x 2" (50.8 mm) tall