DXE-AOKC-17M 17 meter coverage to the Hustler BTV series
DXE-AOKC-17M 17 meter coverage to the Hustler BTV series
Product Information
Overview
Description
Customer Reviews
DX Engineering 17 Meter BTV Add-On Kit
It's easy to add 17 meter band coverage to the Hustler BTV series vertical antennas, without giving up any existing band coverage!

This kit will operate across the entire 17 meter band, 18.068 through 18.168 MHz. The DXE-AOKC-17M 17 Meter Add-On Kit has a very wide SWR bandwidth. The minimum SWR will vary from as low as 1.2:1 to over 1.6:1, depending upon several variables. Even if the minimum SWR is over 100 kHz away from the 17 meter band, the resulting SWR in the band is typically very low. Therefore, precise adjustment of the tuning rods is typically not critical.

The DXE-AOKC-17M 17 Meter Add-On Kit is rated at 1,500 watts PEP SSB, 1,000 watts CW and is conservatively rated for RF power handling of 375 watts RTTY and Digital modes including FT8, at antenna SWR of 2:1 and below.

Installation of the DXE-AOKC-17M can have the effect of narrowing the SWR bandwidth of 20, 15 and 10 meters, a reasonable trade-off for adding the extra band. After the DXE-AOKC-17M is installed and tuned, any required shift of the usable SWR frequency ranges on those bands is accomplished by trap sleeve repositioning on the respective band trap. SWR may be optimized for CW and digital or SSB segments by careful trap sleeve tuning adjustments on the BTV.

This updated kit features a unique combination of aluminum, stainless steel and poly-resin brackets, tuning rods, a large heavy-gauge aluminum wire coil, PTFE insulated wire, stainless steel clamps and hardware, in an easy to assemble project with all of the required parts included:
Pre-assembled 17 Meter element wire with #10 soldered ring terminals
Four Stainless Steel Band Clamps with Threaded Studs
Bottom Aluminum Mounting Bracket
Spring loaded End Insulator to keep the 17 Meter element wire snug
Upper Insulated Mounting Bracket
Two 14.375 inch long Tuning Rods with Corona Balls
All Stainless Steel Hardware
Scotch-Brite® Pad for cleaning the BTV tubing for the 17 Meter element clamp connections
Highly recommended for use during assembly is Jet Lube SS-30 Pure Copper Anti-Seize JTL-12555 for all aluminum and stainless steel hardware and joints.
Your BTV can have both the DXE-AOKC-17M - 17 Meter Add-On Kit and the DXE-AOKB-12M - 12 Meter Add-On Kit installed at the same time. Mount them 180 degrees apart from each other.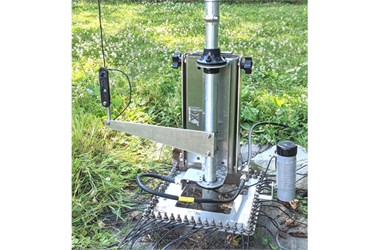 Base View of 4-BTV with DXE-AOKC-17M and DXE-VMN-1

The frequency of lowest SWR on 17 meters is affected by the presence and tuning of the DXE-VMN-1 Vertical Matching Network, which is required for 40 and 80 meter impedance matching on the Hustler BTV series antennas that are installed with many radials for high efficiency operations. Adjustment of tuning rods will likely be required.

Optimization of the SWR only for 40 meters, with the DXE-VMN-1 coil tap point only a couple of turns from the bottom, will typically result in a lower minimum SWR on 17 meters.

However, for operations on both 80 and 40 meters, then it is best to favor 80 meters by setting resonance to the desired 80 meter frequency with the resonator whip length, and adjusting the SWR to around 1.5:1 with a coil tap point at the appropriate spot above the middle turns of the DXE-VMN-1 coil. This approach results in an elevated SWR minimum on 17 and 40 meters, between 1.5:1 to 2:1 or above. Even so, the antenna is usable at full mode rated power on all bands.

Keep in mind that a 1.5:1 SWR represents only 4% reflected power and a 2:1 SWR represents only about 10% reflected power. Completely normal operations are possible at these modestly elevated SWR levels, using a tuner when required by the transceiver or amplifier.

IMPORTANT: Running a continuous carrier power mode (FT8, AM, RTTY) on any band on which the antenna has a trap, will create an accumulation of heat inside the trap windings, depending upon power level and keying cycle times. When a high level of RF continues to be applied to a trap or coil that has not sufficiently cooled, irreparable damage will occur. Aside from conducting operations that do not interfere with others, this is a very practical reason why RF power output must be limited to a level that accomplishes communications, when using coil loaded and trap antennas. Typically, antenna coils and trap components cannot be forced operated above an antenna SWR of 3:1. Do not use a tuner to force high power operations on a frequency where the SWR on the trap antenna is over 3:1.
- Power Rating: 500 Watts PEP
- Bandwidth: Covers the Entire 17M band with a SWR of 1.5:1 or less
DXE-AOKB-17M 17 meter
Took about 30min to set up and tune swr is 1.1.1 across the 17m band, nice add-on kit.
More than just a piece of wire
I bought this after deliberating for a while, due to what I thought was an expensive piece of wire. It turns out that this is a very well made antenna add-on. There are a lot of parts and it looked really good. I use it for PSK and FT8 and with 25Watts, am easily getting into Russia and all over Europe. Great fun for the money. Recommended!
BOUGHT ANOTHER!
I was so impressed with the add-on kit, I bought another! Why? Becasue I have a Hustler at my house and another at my girlfriend's. The ground conductivity there is better than my home and the performance is exceptional. You'll need to understand how a Hustler resonates. Don't just bung in the ATU and hope for the best - resonate it HF to LF and with this and the other kit, your 6BTV becomes an 8 band marvel. Especially where space is restricted. I have wire mesh buried under both of mine and they work a treat. Again, not cheap but highly recommended if you're prepared to spend the time to make it work. Mine took about an hour per kit.
G4RNI
Not cheap but well made and was up & running in a couple of hours, mounted, tuned and along with the 12M version. You need to have the knowledge how to resonate a Hustler xBTV. DO NOT rely upon your ATU read the manual and resonate HF to LF. Can't expect it to work as well as even just a resonant dipole but low profile, fit's in a tiny garden and works. 8 bands on a single pole! For these reasons I'll give it five!
Recently Viewed
DX Engineering Antenna Accessories