DXE-RF-PRO-1B Active Magnetic Loop Antenna
DXE-RF-PRO-1B Active Magnetic Loop Antenna
Product Information
DX Engineering RF-PRO-1B® Active Magnetic Loop Antennas
DX Engineering RF-PRO-1B Active Magnetic Loop Antennas are designed for low-noise reception of signals within the frequency range of 100-kHz to 30-MHz. Their integral, extra-high dynamic range, low-noise preamplifier is designed for minimum intermodulation distortion in the presence of very high-level signals that would normally overload most preamplifiers.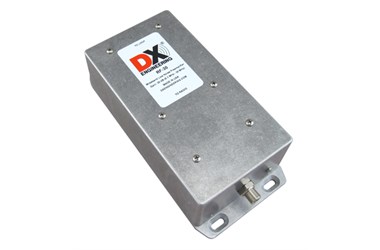 DXE-RF-PRO-1B Active Magnetic Loop Preamplifier (RF-30)
RF-PRO-1B Active Magnetic Loop Antennas, formerly known as the "Pixel Loop" and recently as InLogis, are now manufactured and serviced by DX Engineering. One of the reasons that DX Engineering invested in becoming the owner and manufacturer of the amazing RF-PRO-1B Active Magnetic Loop is because the preamplifier design is very stout and capable. It is a specialized adaptation of the famed Norton Amplifier, a design achieved by the brilliant engineer and owner of Clifton Laboratories, Jack Smith, K8ZOA, who passed away not long ago. Years ago, this excellent high-gain, low-noise preamplifier was licensed from Clifton Laboratories by Pixel for use on this magnetic loop antenna, with the understanding that Jack's name or his company name would not be used.
Now that DX Engineering also owns the rights to Clifton Laboratories designs, we can share this amazing fact about the RF-PRO-1B Active Magnetic Loop preamplifier.
Most active antennas are whip types and respond mainly to the time-varying electrical-field portion of an electro-magnetic radio wave. The magnetic loop responds primarily to the magnetic field and thus ensures high rejection of nearby electric fields. The intensity of the electric field is usually higher than the magnetic field when an antenna is close to interference sources such as TVs, fluorescent lamps, power line wiring etc. By rejecting the electric field there is a reduction in local interference compared to other types of active and passive antennas. They can be mounted to a pole, mast or any flat surface.
Interference reduction is further enhanced by the deep nulls of the antenna's directional pattern that can be used to "null out" or reduce interference coming from a specific localized direction. Installation of the loop on a simple rotator allows the listener to position the loop for maximum rejection of an interfering noise or signal. Many hams are discovering that having separate receive and transmit antennas yields advantages. These receive-only antennas are also a sure-fire way to cover the new 630-meter allocation!
Detailed features of DXE-RF-PRO-1B® Active Magnetic Loop Antennas:
Primary coverage range: 100 kHz to 30 MHz (50 kHz - 100 kHz with reduced specifications)
A great receive solution for 630 meter band (472-479 kHz)
Very low IMD, 30 dB Low-Noise Preamplifier insures good performance in both strong and weak signal environments
Up to 30 dB rejection of locally radiated noise compared to whip antennas
Figure eight directivity provides deep nulls to further reduce interference
Rejects power line noise
Rugged construction, easily mounts to a pole or flat vertical surface
No manual tuning necessary
No Home Owners Association problems; low profile and works only 5 ft. above ground level
Modular design for easy installation and maintenance
Internal Transmit/Receive keying relay disconnects Antenna/Preamp from your receiver when transmitting
Same item and improved quality as the old Pixel Technologies RF-PRO-1A and RF-PRO-1B Loops
NOTE: This is a receive-only antenna. DO NOT connect the RF-PRO-1B to a transmitter or the power injector and preamplifier can be damaged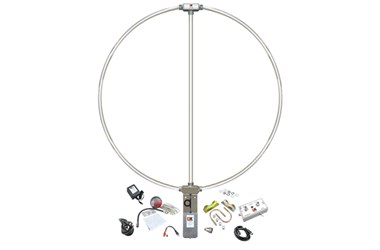 For Amateur Radio operators, AM DXers and Short-Wave Listeners, these active loop antennas are a great way to extend your listening ability. Add DX Engineering RF-PRO-1B Active Magnetic Loop Antennas to your radios and start hearing more signals with less noise!
Recently Viewed
DX Engineering Antenna Accessories