RF Explorer Field Strength EMF Licence Add-On (Digital Download)
RF Explorer Field Strength EMF Licence Add-On (Digital Download)
Product Information
DIGITAL DOWNLOAD, WE WILL EMAIL YOU DOWNLOAD DETAILS AFTER PURCHASE
Designed for the WSUB1G PLUS, 4G PLUS, 6G PLUS and ISM COMBO PLUS



Please note as this is a one time code for software - we cannot issue a refund once purchased and installed.




Ordering online and License Activation process

Check detailed steps at RF Explorer Device License instructions page


****This is currently Beta testing version****

RF Explorer HAM Field Meter License
Starting with firmware v3.25, all RF Explorer PLUS models can perform specific W/m2 or V/m measurements for all sub-GHZ popular HAM frequency bands. This feature is developed with contributions from Martin Lynch & Sons


You can use this feature to convert RF Explorer Spectrum Analyzer into an effective, accurate and easy to use Field Meter to easily check power levels being transmitted by your antenna at a reference distance, and check if transmission levels are in compliance with local regulations.


Note: for accurate measurement you need to apply specific antenna and compensate with Offset dB parameter to adjust for antenna gain. Multi band highly accurate, calibrated antennas are normally used by EMC testing and cost thousands of dollars, which is not a cost-effective approach for a handheld device. Therefore, we provide full support for the included dual band 144/430MHz telescopic antenna with gain adjustment for each band. Other 50 ohm antennas can be used by adjusting offset gain accordingly. To select the new mode, click on HAM Field Meter option (not available if the currently selected module is the 2400MHz module, select the 50KHz-940MHz module for this mode to become available)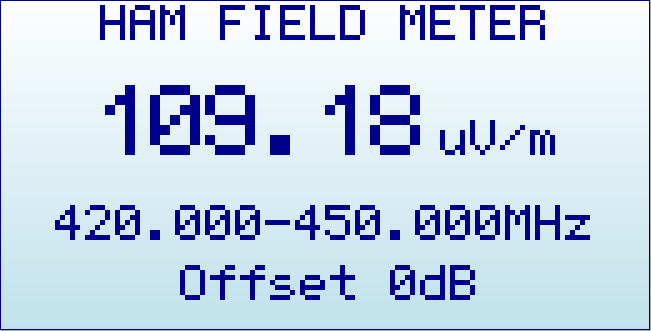 The HAM frequency bands currently covered are listed below


| | |
| --- | --- |
| Frequency Band (MHz) | HAM definition |
| 3.500 – 4.000 | 80 meters |
| 5.000 – 5.400 | 60 meters |
| 7.000 – 7.300 | 40 meters |
| 10.100 – 10.150 | 30 meters |
| 14.000 – 14.350 | 20 meters |
| 18.068 – 18.168 | 17 meters |
| 21.000 – 21.450 | 15 meters |
| 24.890 – 24.990 | 12 meters |
| 28.000 – 29.700 | 10 meters |
| 50.000 – 54.000 | 6 meters |
| 70.000 – 70.500 | 4 meters |
| 144.000 – 148.000 | 2 meters |
| 420.000 – 450.000 | 70 centimeters |
For more details read user manual section HAM Field Meter.


Ordering online and License Activation process

- We will email you the download details once the purchase has been made.


By purchasing this license you agree on the following terms:


End User License Agreement
All sales are final, refund is only possible before activating the license in the Computer and the Spectrum Analyzer. Once the license is activated there is no option for refund or cancellation.

License can be activated from a Windows 7/8/10 computer only

The license can be activated only from the same computer provided by Computer Code ID and for a single RF Explorer Spectrum Analyzer device. Once the license is activated, can be used with any computer by the same RF Explorer Spectrum Analyzer device.

License is permanent and locked to a specific RF Explorer Spectrum Analyzer device, it does not require any extra regular payment and is compatible with any future firmware upgrade. The device firmware must not be downgraded to earlier versions of firmware than v3.16 as otherwise the license may get invalidated.

Each license is unique and cannot be shared or moved to a different RF Explorer device.

Support is available through www.rf-explorer.com/support page. We are entitled to provide quality support on any question you may have or issue you may find.

For more than 5 licenses you can apply for a 10% discount, contact us before purchase.