AnyTone AT-778V/U 2/70 Dual Band Transceiver
AnyTone AT-778V/U 2/70 Dual Band Transceiver
Product Information
Latest batch units will only cover the amateur bands if you need to TX outside this range please select the wideband option on the sidebar.

Now comes complete with programming cable.

Probably the best built compact Dual-Bander available. Brand new on to the market, this new solid die-cast alloy construction.
Anytone AT-778
UV Dual Band Mobile
Radio
2m 70cm Amateur 25 Watt Ve
hicle Car
Radio.
SOFTWARE V2 VERSION
SOFTWARE V1 VERSION




Frequency Range: 144-146MHz & 430-440MHz (Dual Band)
Function:
Output power:25W/10W/5W
250 channels
CTCSS/DCS/DTMF/2TONE/5TONE encode and decode
ANI function/PTT ID
Single Call, Group Call, Selective Call and Emergency Call all are available.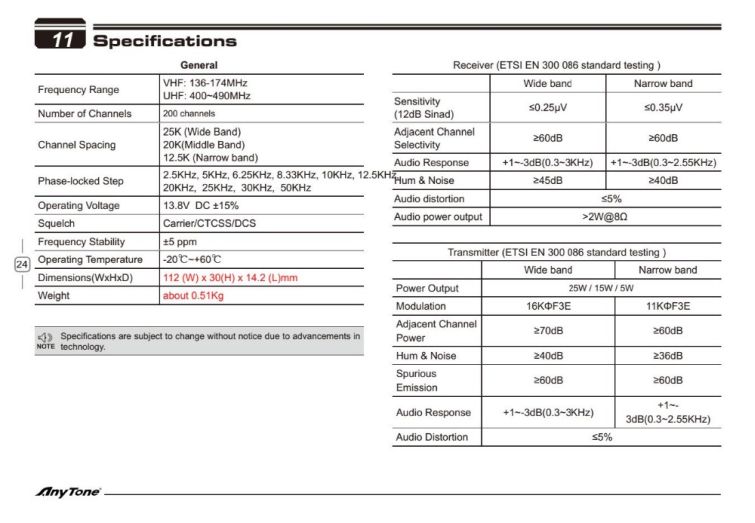 Package Includes:
1 * Anytone AT-778UV Dual Band Mobile Radio
1 * Handheld Microphone
1 * Mounting bracket & screw
1 * Power cable
1 * User's manual

Solid radio for the money
ok the anytone is going to win many awards but for the price you do get a lot. After getting mine I deftly tried to program all my local repeaters in. The menu isn't initially very clear about what is what. So manual time it is, however I think the manual was translated from chinese to english using google translate as it's all kinds of wonky. However once I'd spent time on youtube and done a spot of experimenting I've not got it working as I wanted. A solid purchase just chuck the manual and get on the internet and do a spot of searching :P
Outstanding FIVESTAR ⭐️⭐️⭐️⭐️⭐️ 📡📡📡📡📡
I've only had this radio 1 day and I'm getting 💯 positive reports. It's very easy to use and the manual is very easy to read, basically the whole package is idiot proof, 73 for now from Tom 2E0EUM
Accessories
West Mountain Radio Accessories
You Might be interested in
Misc

£25.00

(Inc VAT at 20%)
Recently Viewed