MyDEL AnyTone AT-778V/U 2/70 Dual Band Transceiver
MyDEL AnyTone AT-778V/U 2/70 Dual Band Transceiver
Product Information
Now comes complete with programming cable.



Probably the best built compact Dual-Bander available. Brand new on to the market, this new solid die-cast alloy construction.
Anytone AT-778UV Dual Band Mobile Radio 2m 70cm Amateur 25 Watt Vehicle Car Radio.

SAMPLE DAT FILE HERE

Software available here

Frequency Range: 136-174MHz & 400-490MHz (Dual Band)
Function:
Output power:25W/10W/5W
250 channels
CTCSS/DCS/DTMF/2TONE/5TONE encode and decode
ANI function/PTT ID
Single Call, Group Call, Selective Call and Emergency Call all are available.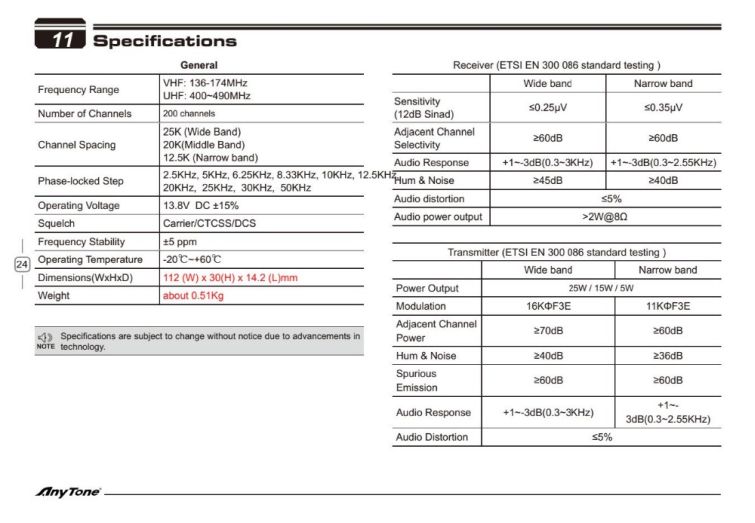 Package Includes:
1 * Anytone AT-778UV Dual Band Mobile Radio
1 * Handheld Microphone
1 * Mounting bracket & screw
1 * Power cable
1 * User's manual

Outstanding FIVESTAR ⭐️⭐️⭐️⭐️⭐️ 📡📡📡📡📡
I've only had this radio 1 day and I'm getting 💯 positive reports. It's very easy to use and the manual is very easy to read, basically the whole package is idiot proof, 73 for now from Tom 2E0EUM
Accessories
West Mountain Radio Accessories

West Mountain Radio Accessories
You Might be interested in
Misc

£25.00

(Inc VAT 20.00%)
Recently Viewed
AnyTone

£99.95

(Inc VAT at 20.00%)