Vero VR-N7500 50w Dual Band Mobile Radio With App Programming
Vero VR-N7500 50w Dual Band Mobile Radio With App Programming
Product Information
The Vero Telecom VGC VR-N7500 is a brand new 50watt VHF/40 watt UHF Headless ham transceiver with a solid build quality. It is very different in design compared to any other radio used mobile or base.
The VR-N7500 uses a smartphone as a control panel. The body is installed in the trunk, the mobile phone is connected to the body through Bluetooth, and the automatic horizontal screen state is fully intelligently connected. Car hands-free intercom can be utilised through the vehicle Bluetooth and PTT is by the supplied Bluetooth PTT
Multiple Bluetooth Connections
Connect to bluetooth PTT

Connect to bluetooth headset(e.g. Cardo, Schuberth, Viper, Sena, Interphone and Vimoto etc.) This is very useful for cycling enthusiasts, omitting the cumbersome wiring.

Connect to cell phone to programming the radio

Connnect to bluetooth speaker microphone

Connect to other bluetooth 2.0+ accessories
Global Walkie Talkie / Network Radio (Android Only)
Create a network channel in app and then invite friends to the same Channel, no matter where they are, as long as they a mobile phone or a walkie-talkie with a VERO N series, you can contact in real time.
Cross Band Repeater From Network Channel To Analog (Android Only)
Using the dedicated Android app you can crossband repeat from Analog to Network and Network to Analog when the "Relay Function" has been enabled on the app.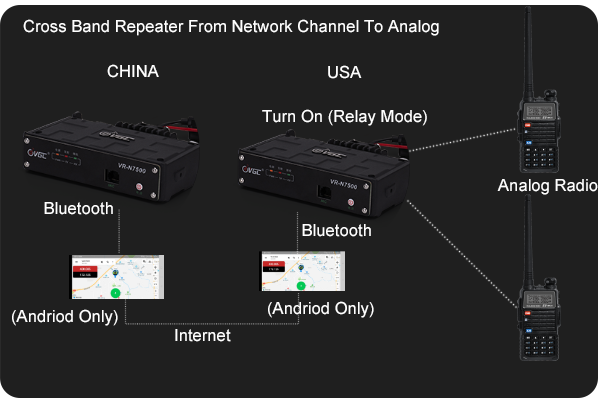 APRS Function
Using the APRS feature you can send your updated location in real time to the APRS-IS servers, which will then plot your position on APRS maps such as APRS.FI
Key Features
Output Power: 50 Watts VHF 40 Watts UHF

App programming

CTCSS/DCS/DTMF/2Tone, 5Tone decode and encode.

Supplied with wired mic.

Supplied with Bluetooth PTT.

Supplied with Bluetooth Microphone.

Allows Multi Bluetooth connections

Allows Network radio to RF connection