Product Information
Not guaranteed to work on Windows 11 at this stage.
This USB-stick facillitates the use of a PC to communicate on Dstar,DMR and C4FM! Just install BlueDV (latest update supports C4FM as well now), and use the PC-microphone and PC-speakers to communicate to reflectors/talkgroups. Ideal solution to use on a laptop whilst traveling.
DVstick30
The DVMEGA DVstick30 is the successor to the DVMEGA AMBE.
The DVMEGA AMBE remains available because it has the possibility to convert analogue audio directly into AMBE data without the intervention of other hardware.
The DVstick 30 is the perfect combination of the AMBE-3000™ vocoder and USB interface.
Using BlueDV and the DVstick30 you can make a QSO without a radio.
All you need is a Windows PC with soundcard, microphone, speaker and a DVMEGA DVstick 30.
The communication speed can be set by means of hardware configuration. This makes the DVstick 30 extremely flexible and backwards compatible with existing software such as Dummy Repeater and AMBE server.


Technical data
– USB 2.0 Full Speed compatible.
– UART speed, configuration via Hardware, 28K8 – 460K8
– USB port powered.
– DVSI's full duplexAMBE+2™ Voice coder.
– Data rates of 2.0 kbps to 9.6 kbps in 50 bps increments.
– Variable FEC Rates 50 bps to 7.2 kbps.
– Vocoder configuration via configuration packets.
– Compatible with, BlueDV, AMBE server, Dummy repeater etc.d.
How to setup: check AMBE in BlueDV(setup screen), select comport just below that, and

set the baudrate to 460800

.
That will make sure BlueDV will recognise the device.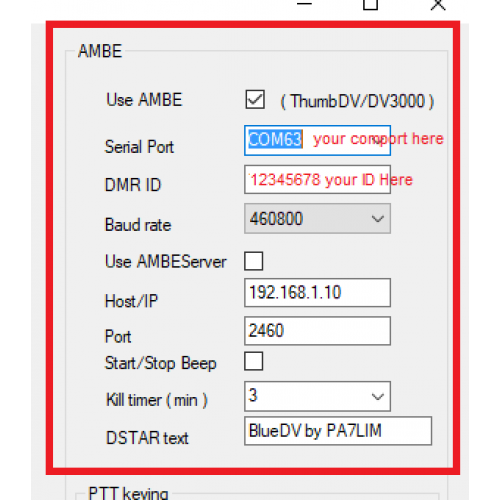 DVMEGA Stick 30
Ordered this so that I could take advantage of Fusion without purchasing a suitable radio. Having used DMR and DSTAR for some time I was very impressed with the quality and ease of configuration. You do need to be careful not to overdrive the audio but once you have it set it works brilliantly. I will be keeping this in my laptop bag for when I travel with work so that I can enjoy using the digital modes at any point. Some great videos online that help you configure and use the device and associated software.
DVMega DVstick 30
The DVMega Dvstick 30. Is a great device that is really easy to set up. and you can work. dstar-dmr-and fusion. By just using your pc and a desk microphone or skype headset. The best thing about the dvstick 30 is that you don't need any antennas. It's great if you live in a flat or similar where you can't install antennas. And you can still make contacts around the world. 7.3