SharkRF openSPOT - ALL SOLD - Awaiting new model
SharkRF openSPOT - ALL SOLD - Awaiting new model
Product Information
Sold out - however take a look at the DV Mega!! Click here for the link.
openSPOT is a standalone digital radio IP gateway designed mainly for amateur radio. You can reach DMR, D-STAR and C4FM/System Fusion networks by using an openSPOT, internet access, and your DMR/D-STAR/C4FM radio.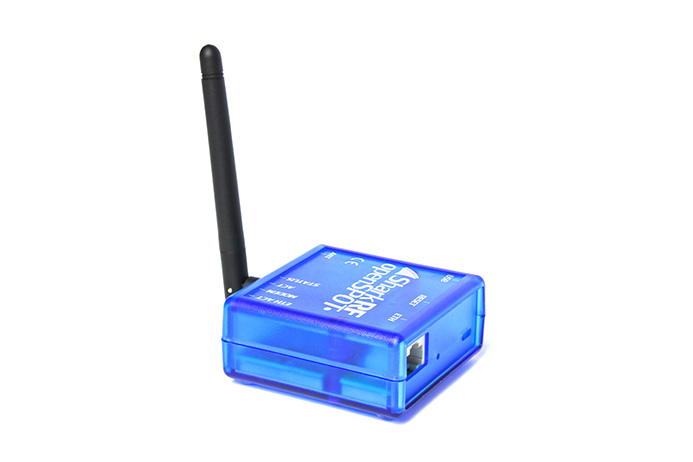 What's openSPOT good for? Let's say you live in Budapest, and talk to your friends on the local DMR repeater HG5RUC, which is on reflector 4770 on the Brandmeister network. If you travel around the world, where you can't reach the repeater HG5RUC directly, you can still talk with your friends by using an openSPOT and a DMR (or C4FM) radio by connecting it to the same reflector which HG5RUC uses (4770, BM). If you speak on your DMR/C4FM radio on openSPOT's frequency, it will route your call to reflector 4770, and HG5RUC will transmit your signals all around Budapest, so your friends will be able to hear and talk to you.
If you don't have local repeater coverage, openSPOT can link you to DMR, D-STAR and C4FM/System Fusion networks all around the world. If you do have local repeater coverage, you can still make use of an openSPOT to avoid interrupting local repeater traffic. You can reach any reflector or talkgroup with it, so you don't have to disconnect the local repeater and disturb other local users.
Two openSPOTs can be linked together directly without any servers or network infrastructure. Interconnecting two DMR/D-STAR/C4FM sites can be easily done this way.
By using openSPOT's
API
, you can develop your own software to communicate on DMR, D-STAR and C4FM/System Fusion networks. You can send and receive text messages on DMR networks, or you can create your own RF protocols. All modem settings are customizable.
What makes openSPOT way better than any hotspot currently on the market?
openSPOT is a customly designed dedicated hardware unit for standalone operation. It doesn't need a computer, a Raspberry Pi, an Arduino board, or any other hardware. It doesn't need slow desktop PC software or drivers to install. It comes preassembled with all the needed accessories.
It's extremely easy to use. You just plug the device into a USB power supply, connect it to your LAN with the supplied Ethernet cable, set the initial parameters with a web browser through it's web interface, and you are done. The web interface is rarely needed, you can switch talkgroups, reflectors by using your radio. openSPOT automatically reconnects if the connection is dropped. See this video on how easy it is to connect openSPOT to the Brandmeister network by looking at the video at the bottom of this page.
openSPOT is designed by hardware and embedded software professionals, who are also amateur radio enthusiasts. It's PCB and hardware components are very high quality and meet industrial standards as you can see by clicking on the high resolution photo below.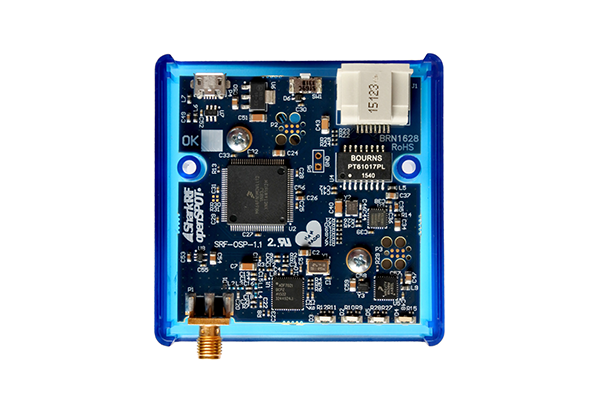 openSPOT's compact blue case is made from durable ABS plastic, and held together with screws, not scotch tape. It has a metal counterweight inside with a laser-engraved SharkRF logo, and rubber pads on the bottom.
You can do cross mode between C4FM and DMR. This means openSPOT can convert your DMR transmission to C4FM networks, and your C4FM transmissions to DMR networks. You can talk to other users on the Brandmeister or DMRplus network by using your C4FM/System Fusion radio, or you can talk to other users on the FCS network by using your DMR radio. This cross mode operation is very easy to set up, as you can see on the video below.
If you are a software developer, you can create your own RF applications by using openSPOT's HTTP and UDP API which are fully documented on
GitHub
.
Excellent Product
it took me a while to understand to set, i am not the best of people to pick things up quickly, but once i got the hang of it, well what can i say its left me speechless once i had my tyt md380 handy configured to the brandmeister network i can listen to most countries, if anyone says there is no one on DMR well think again, buy 1 of these and it will open up a whole new world. Many Thanks Martin Lynch
Easy to set up and amazing value for money
My concern when I bought this was that it would be tricky to set up. Nothing could be further from the truth. I'm not exaggerating when I say I was on the air within 10 minutes which included first updating the firmware. This tiny blue box is amazing. Sits in the shack chugging away on my favourite wires X room using almost no data or power! A quick login from my phone and I can switch to another room or to the DSTAR network. It's child's play. If you love digital, this is a 100% must have. I guarantee you will not be disappointed.
A great bit of kit.
I have only had this for a couple of days, but up to yet I have found it to be an excellent piece of kit. It worked straight out of the box, all it needed was a firmware update which is easy to do, just follow the instructions in the manual and I was using it for Dstar in minutes. I have yet to set up DMR but I need to learn a bit more about how DMR works yet. If any.one is thinking about getting a hotspot I would recommend this one as it's a great build quality and a doddle to set up.
Niffty little thing.
This little bugger does it all and does it very well. Easy built in web interface for all settings. Operates stand alone and does all three DV modes. Perfect! Only feature i miss is built in Wi-Fi. That would have been super.
works perfect
Plugged it in, and was up on D-Star in minutes. I have used the DVAP earlier with a PC, and later with a Rasp Pi. This new hotspot is not difficult to use, and I will now experiment with Fusion and DMR. Works fine on my 4G router in my cabin without a wired internet connection. The upgrade to the latest firmware, was not a problem. All in all works well and does what it says on the box. favorite point - easy to set up an no PC needed. Im going to buy a couple to have in the office and the cabin, I like it that much.
SharkRF openSPOT
I only received this last week and haven't had the opportunity to run through all it's features yet but what an excellent piece of kit. So easy to set up and there's a useful forum to refer to if you get stuck. A couple of points to note though. If you plan to use this as a mobile hotspot through your iPhone with a wireless adaptor such as a TP-Link, you cannot access the web interface at the same time with the same device. This may be obvious to some but I did not know. Secondly I have carried out 2 firmware updates since purchase, the first one went without any problem at all but then I managed to fail on the second one. After multiple attempts to install the firmware I eventually rebooted the computer and it worked. I would thoroughly recommend this device for those who want to try digital modes but only have a single type of digital radio. Russell
Recently Viewed
SharkRF

£149.95

(Inc VAT at 20.00%)