Product Information
Overview
Description
Minimum Computer Requirements
Specifications
PERSEUS

= Pretty Excellent Receiver for Software-Eager Unperceivable Signals



The PERSEUS is a software defined VLF-LF-MF-HF receiver based on an outstanding direct sampling digital architecture. It features a 14 bit 80 MS/s analog-to-digital converter, a high-performance FPGA-based digital down-converter and a high-speed 480 Mbit/s USB2.0 PC interface.

The PERSEUS analog front-end has been carefully designed for the most demanding users and includes a 0-30 dB, 10 dB steps, attenuator, a ten bands preselection filters bank, and a high dynamic preamplifier with a top-class input third-order Intercept Point of more than 30 dBm. The resulting third-order dynamic range is more than 100 dB in SSB and more than 105 dB in CW. Believe us, there's no other so performant and complete shortwave SDR receiver in the market today. The PERSEUS receiver can be operated also in a wide band mode as a 10 KHz - 40 MHz spectrum analyzer with more than 100 dB dynamic range in a 10 KHz resolution bandwidth.

Being a software defined radio, the PERSEUS receiver relies on software applications to carry out the demodulation process. Besides providing all the required software signal processing for the PC platforms, the PERSEUS software has a comfortable graphical interface, is simple to use and runs under Microsoft Windows 2000, XP and Vista. All the controls a listener is used to see on a radio are there, in the application main window. The interface to third party software is provided in several ways, by means of the Microtelecom Software Defined Radio Developer Kit, virtual audio ports and virtual communication ports.

The PERSEUS software will soon support wideband spectrum record/playback up to 2 MSPS with alias images rejection larger than 110 dB in a 1600 kHz bandwidth!

-
Latest Perseus Software download

-
Watch Video 1

-
Watch Video 2

-
Worldband Radio Review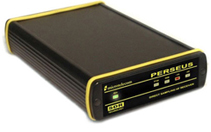 PERSEUS is a software defined VLF-LF-MF-HF receiver based on an outstanding direct sampling digital architecture. It features a 14 bit 80 MS/s analog-to-digital converter, a high-performance FPGA-based digital down-converter and a high-speed 480 Mbit/s USB2.0 PC interface.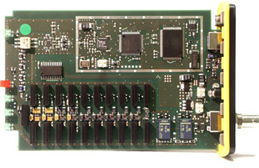 A COMPLETE SDR RECEIVER FOR SHORTWAVES
The PERSEUS analog front-end has been carefully designed for the most demanding users and includes a 0-30 dB, 10 dB steps, attenuator, a ten bands preselection filters bank, and a high dynamic preamplifier with a top-class input third-order Intercept Point of more than 30 dBm. The resulting third-order dynamic range is more than 100 dB in SSB and more than 105 dB in CW. Believe us, there's no other so performant and complete shortwave SDR receiver in the market today. The PERSEUS receiver can be operated also in a wide band mode as a 10 KHz - 40 MHz spectrum analyzer with more than 100 dB dynamic range in a 10 KHz resolution bandwidth.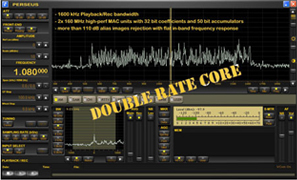 SOFTWARE FOR DEMANDING USERS
Being a software defined radio, the PERSEUS receiver relies on software applications to carry out the demodulation process. Besides providing all the required software signal processing for the PC platforms, the PERSEUS software has a comfortable graphical interface, is simple to use and runs under Microsoft Windows 2000, XP and Vista. All the controls a listener is used to see on a radio are there, in the application main window. The interface to third party software is provided in several ways, by means of the Microtelecom Software Defined Radio Developer Kit, virtual audio ports and virtual communication ports.
The PERSEUS software will soon support wideband spectrum record/playback up to 2 MSPS with alias images rejection larger than 110 dB in a 1600 kHz bandwidth!
SYSTEM REQUIREMENTS:
- 2 GHz Pentium IV CPU with 512 MB RAM (for 125 KS/s, 250 KS/s and 500 KS/s)
- 2.5 GHz Dual Core CPU with 512 MB RAM (for 1 MS/s operations)
- USB2.0 High-Speed (480 Mbit/s) port
- 16 bit AC-97 compatible audio board
- 1024 x 768 minimum resolution video board and monitor
- 2 Button mouse with wheel
- 10 GB or more internal hard-disk
- Supported OS: Windows 2000 SP4, Windows XP SP2, Windows Vista
NOTE: The Perseus receiver may operate on machines with a lower specification, but performance cannot be guaranteed.








TECHNICAL SPECIFICATIONS

Frequency Coverage: 10 kHz – 30 MHz
Modes: SSB, CW, AM, S-AM, FMNB, etc. (Software Defined)
Sensitivity: 0.49 uV (SSB, S+N/N= 10 dB, Preamp ON, Dither OFF)
Selectivity: Software Defined (>100 dB Stop Band Attenuation)
Image Rejection: 90 dB
Input IP3: 31 dBm
Dynamic Range: (IMD3) (CW) 102 dB @ 7.050 MHz, 2 kHz Spacing 100 dB @ 14.150 MHz, 2 KHz Spacing
Blocking Dynamic Range: (CW) 124 dB (CW, Dither OFF)
Blocking Dynamic Range: (SSB) 117 dB (SSB, Dither OFF)
Minimum Detectable Signal: (CW) -125 dBm
-129 dBm (Preamp ON, Dither OFF)
-131 dBm (Presel OFF, Preamp ON, Dither OFF)
Minimum Detectable Signal (SSB): -118 dBm
-122 dBm (Preamp ON, Dither OFF)
-124 dBm (Presel OFF, Preamp ON, Dither OFF)
Input Clipping Level: -3 dBm (Preamp OFF), -6 dBm (Preamp ON)
Attenuators: 0, 10, 20, 30 dB
RF Preselection Filters Bank LPF Filter: 0-1.7 MHz. BPF filters (1.7-30 MHz): 0-1.7, 1.7-2.1, 2.1-3.0, 3.0-4.2, 4.2-6.0,
6.0-8.4, 8.4-12.0, 12-17, 17-24, 24-32,
OFF (0-40 MHz Wide-Band Mode)
PC Interface: High-speed 480 Mbit/s USB2.0 port
DDC Output Sampling Rate: 125 Ks/s, 250 Ks/s, 500 Ks/s, 1 MS/s, 2 MS/s 24 bit/sample IQ
DDC Output Bandwidth: 100/200/400/800 kHz (>120 dB Alias Rejection)
1600 kHz (> 110 dB Alias Rejection)
Power Supply Requirements: +5Vdc +/-5% - 700 mA
Cabinet: Aluminium Enclosure 110 x 36 x 185 mm (W x H x L)
Operating Temperature Range: 0-40 °C
Frequency Accuracy: +/-1 ppm after calibration
Weight: 380 g

All specification are measured at 14.15 MHz, with Preselector ON, Preamp OFF, and Dither ON,
unless otherwise indicated, CW bandwidth = 500 Hz, SSB bandwidth = 2400 Hz.